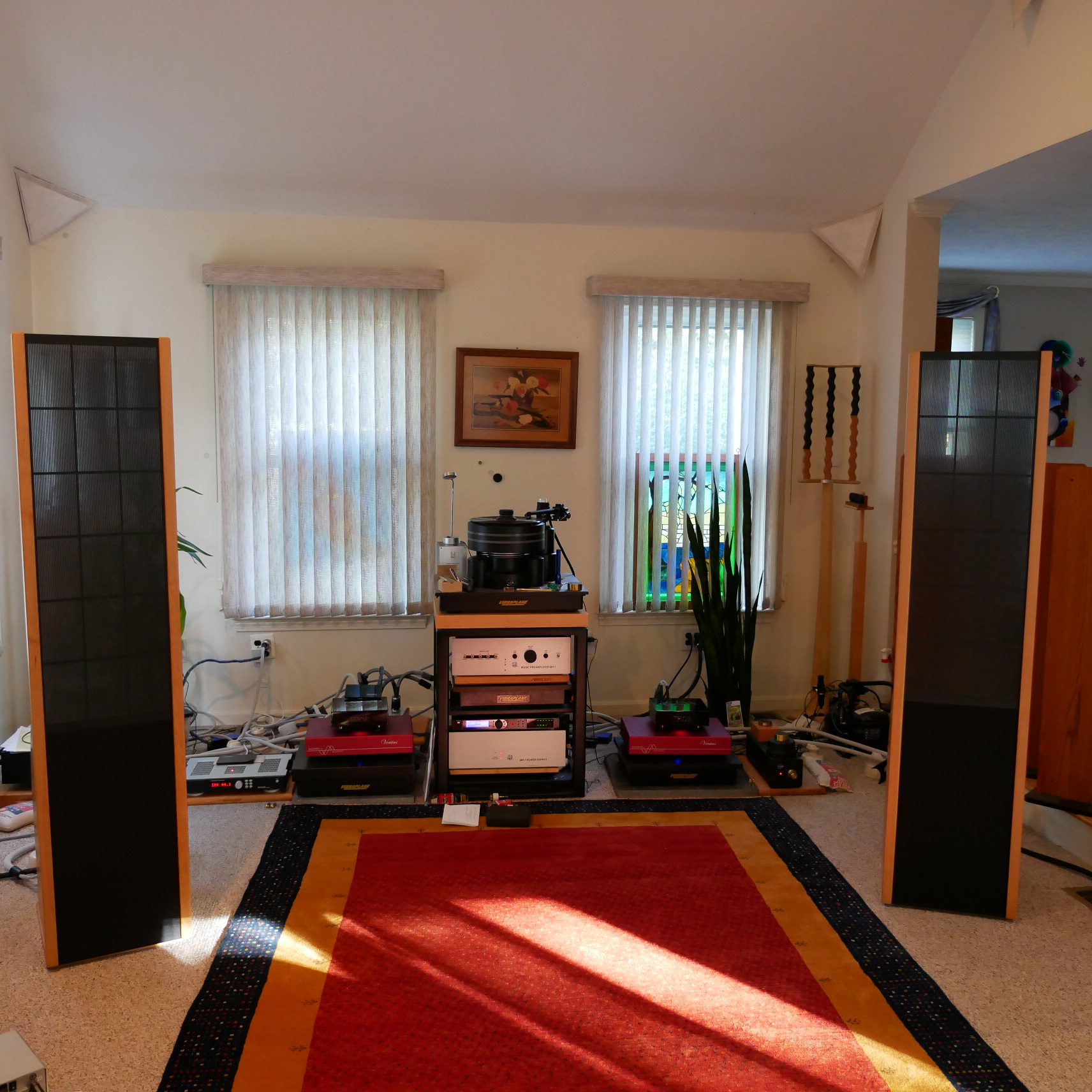 We are happy to setup an appointment so you can listen to our equipment and learn more about the extraordinary products we host in our listening rooms. Please call to setup that appointment:
Sounds Of Silence
14 Salmon Brook Drive Nashua, NH 03062
Tel: 603-888-5104
Or send us a note using the form
by clicking this link.





Reviews
Products
Kirmuss Audio Ultrasonic Record Cleaner now "cleaning" at SOS!
Posted on April 26, 2020 by Admin
"After the last wash cycle, Dr. Kirmuss polished the record with a microfiber cloth and slipped it into a clean sleeve. Off I trotted back to the Monitor Audio-Roksan room. Brown and I examined the record — it looked brand new. Glossy, clean, and basically perfect. We slammed it back on the Xerxes 20 and the record was dead silent. Zero ticks or pops, no more skips, and now there was top end — the highs returned, Albert Collins's Telecaster regained that nasty attack, those biting overtones. I could hear the extension, spaciousness, and textural definition that I knew the Shiraz could extract out of a record's grooves."
— ROBERT DEUTSCH, STEREOPHILE MAGAZINE, DECEMBER 2014
"Best of all, when I played [a Kirmuss-cleaned record]–holy crap! The top end was fully restored, the backgrounds were superquiet, transients were sharpened, and the amount of inner detail–particularly the microdynamic shifts in Pete Townshend's rhythm guitar strums–produced an almost new listening experience. That's not hype."
— MICHAEL FREMER, STEREOPHILE MAGAZINE, JULY 2019
"We've been cleaning records for a long, long time. What makes the Kirmuss stand out above the rest is twofold. First, it's cost effective. Second, it does an incredible job."
— JEFF DORGAY, TONE PRODUCT OF THE YEAR 2019
"Billed as a "record restoration" device rather than strictly a record cleaner … you'll be rewarded with a more spacious soundstage and truer intrumental timbre."
— THE ABSOLUTE SOUND, 2020 EDITORS' CHOICE AWARDS
The Kirmuss Audio Model Ka-Rc-1: Revolutionize Record Cleaning

A patented and patents pending record suspension system assures that records of any speed and size see their grooves cleaned SAFELY. No damage to the record by mechanical intrusion of skewers and the like.

The initial de-grease bath is distilled water with a maximum of 40 mL (1.4 oz) of ISA (Isopropyl) 70% solution. (Please note, check the label and ensure there are no other ingredients.) In its subsequent cycles, it applies a PVC-friendly, water-soluble, anti-bacterial, anti-fungal, and anti-static surfactant to the record aimed at removing accumulated surface contaminants present from other cleaning systems. This is applied to the record by way of a supplied goat hair brush.

Ultrasonics need a surfactant to aid in the cavitation of the water solution to better clean and remove contaminants. The Kirmuss process allows you to actually see when the record is clean and restored.
As the surfactant is brushed onto the record, a decrease of the appearance of a toothpaste-like substance validates the effectiveness of the system: removing fungus, contaminants, as well as agents applied in prior cleaning methods and systems.
Download the HiFi World Review
Why Clean Records?
No matter how you store and use your records they inevitably will require maintenance. When playing records, dust particles and contaminants build up on the stylus as the tone arm moves across the record. This accumulation on the needle dulls the sound, and also, those dreaded pops and crackles are caused by dirt, grime, and particles lodged in the record grooves being hit by the needle, as well as static discharges, all amplified by the cartridge. All are annoying! Even new and latest pressings are subject to the same conditions as your old collection. Release agents are found on the record as a residue from the pressing process and must be removed prior to use, otherwise they attract dust other airborne contaminants at an alarming rate. Heat generated by the contact of the stylus with the record will cause micro-dust particles to lodge in the grooves. Regular cleanings are recommended as continual maintenance and care of your records which in turn will reduce those unwanted pops and augment your listening pleasure. Cleaning will not remove unwanted sounds caused by scratches on the record's surface, and depending on the age and condition of the record, even repeated cleanings may or may not restore the record to like-new condition. In some cases it will not remove the pops and crackles which are a result of playing a new record that has not been subject to a cleaning, but it will reduce the overall undesirable effect previously described.
This entry was posted by Admin.
---