Reading Time:
< 1
minute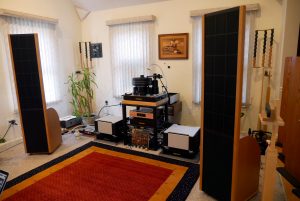 As long as he can remember, Steven Klein has always been in pursuit of the purest music listening experience. In 1978, he embarked on a journey for a solution to turntable vibrations, as they negatively affected his listening experience. Fifteen years of researching high end equipment, he finally discovered the Vibraplane which achieved his goal flawlessly.  As a result of his quest, Steve would begin a new chapter by opening Sounds of Silence.
SOS is committed to representing only the finest manufacturers of audio equipment found throughout the world. Our goal is simple; to provide premium products for those who wish to enjoy the best musical production possible in a home environment.
To help provide the best solution, SOS is happy to demonstrate the equipment in their specially designed acoustic landscapes, tuning specifically to the listener's needs.  It is during the audition in which the listener will behold a harmonic experience and truly understand the sensory magic these products are capable of producing.
"We are glad that we can be a part of your journey to achieving the best music listening experience possible. Thank you for your consideration and HAPPY LISTENING!"
E-mail: sklein@soundsofsilence.com