Reading Time:
2
minutes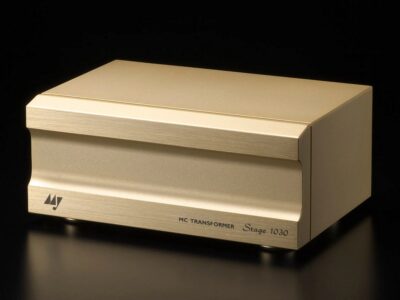 Explore the full sonic potential of your My Sonic Lab MC Phono Cartridge with this high-quality Japanese made Stage 1030 Step-Up Transformer which delivers gain with high-efficiency energy, naturalism and purity. It effortlessly pairs with cartridges with an internal impedance of 1Ω to 5Ω. By reducing signal loss with low internal resistance, the Stage 1030 supplies the gain to the preamplifier that MC cartridges need to produce clear, open, airy, nuanced, and detailed sonics all the while lessening noise and grain.
The My Sonic Lab Stage 1030 Step-Up Transformer is built with a special PS-SXIII transformer core material, resulting in low-end weight, improved resolution across the entire frequency spectrum and signal preservation with utmost integrity.
Quotes
Stereophile, Herb Reichart, 2018
"Real life is never grainy. Neither is the sound of my records through My Sonic Lab's Ultra Eminent Ex low-impedance MC cartridge and Stage 1030 step-up transformer. Combined, these two Y. Matsudaira creations made LPs sound as close to 3D-live as I have ever heard".
Read a review here: https://www.stereophile.com/content/gramophone-dreams-25-dr-feickert-jelco-koetsu-my-sonic-lab-page-2
Product Specification
| | |
| --- | --- |
| Type | For ultra-low impedance (+/-1 Ω) and low impedance (3-6Ω) moving coil cartridges |
| Frequency Response | 10Hz ~ 100kHz (1Ω/47kΩ) |
| Boost Ratio | 26dB (1Ω/47kΩ/1kHz) |
| Input Impedance | 0.3Ω ~ 6Ω (cartridge impedance) |
| Load Resistance | 47kΩ ~ 100kΩ |
| Channel Balance | Below 0.1dB (1kHz) |
| Terminals | Rhodium-plated pins (pin RCA/ground) |
| Other Features | Switchable input selector floating balance or earth grounded Special ultra Hi-μ core "PC-SXII". Terminator circuit with output. |
| Dimensions | 150mm (W) x 65mm (H) x 110mm (D |
| Weight | 1.7kg |