Reading Time:
3
minutes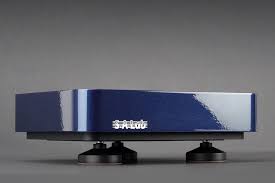 Reading Time:
3
minutes
If you are dissatisfied with the sound of your vinyl path and cannot get into the magic of analog sound after trying different tables, cartridges or even phono stages then you MUST try an S.A. Labs SUT. Once you introduce a SA Lab Step-up transformer into the system you will be left speechless for everything will sound better than ever heard before.
In this wonderful device, Alexey Semin has applied triple shielding: a non-magnetic outer shield, an inner volumetric permalloy (Ni <78.5%) casing and permalloy cups for each ultra high-quality, custom-designed and handcrafted transformer.
This small component provides a huge improvement in sound quality, turning sound into music.
S.A. Lab (Sound Analysis Laboratory) a Russian manufacturer of High-End components, was founded in 2004, a serious manufacturer with its own CNN machines and unique measuring equipment. Alexey Semin, who is the founder, has extensive experience in the design of audio equipment and other electronic equipment, designs components in accordance with his own ideas about how an ideal system should sound including of course with the best classics from the golden age of tube audio. Everything is maintained in the spirit of the developed concept – circuitry, choice of element base, construction, and design all completed in-house.
Uncompromising requirements for product quality at all stages – from design, formation of an element base, development of a design layout to production and installation – allows Alexey to maintain and repeatedly confirm the highest reputation of SA Lab's engineering creations , both in the expert community and among connoisseurs of high-quality sound from among the most sophisticated audiophiles around the world.
.
S.A. Labs has unveiled the SUT K25 step-up transformer for working with Moving Coil ( MC ) cartridges . The transformer is designed to work primarily with low-impedance MC heads, the resistance of which does not exceed 20 ohms.
Precision construction and the use of the finest materials in the manufacture ensure the sound quality of the component to satisfy the most demanding audiophiles. Silver wire is used for winding the transformers, and the best grades of transformer iron are used for the cores. The transformation ratio is encrypted in the model index of the component – SALab SUT K25 and is equal to 25 .
The device case provides double shielding of transformers. The inner screen is made of 8mm thick nickel alloy panels. The outer casing is made by milling from a single aluminum blank and then coated with enamel in Ferrari blue.
The device is supplied in a metal case. The SUT K25 includes three anti-vibration mounts that reliably decouple the component body from the installation surface.
The recommended retail price for the SALab SUT K25 MC-transformer in Europe is 5,500 euros. (*At time of writing this equal approx. $6,550)
S.A. Lab K25 Step-up Transformer specifications:


Frequency response: 10 – 60,000 Hz
Input Impedance: 2.0 – 15 Ohm
Channel Separation (1 kHz): 90 dB
Load: 47 kOhm
Gain – 10
Channel balance (1 kHz): 0.1 dB
*11-2020
---